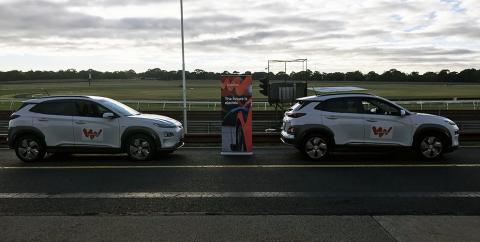 A delightfully sunny Melbourne day greeted LeasePlan customers at our first EV Drive Day at Sandown Raceway on Thursday 11 April, as we started the conversations about adopting electric vehicle technology.
With generous support from Hyundai and Murcotts, our customers were invited to learn more about plug-in hybrid vehicles (PHEV) and full electric vehicles (EV), and to take a variety of cars for a spin around the track to get a first-hand, real-world driving experience.
LeasePlan has made a strong, global commitment to lead business transition to an electric future, with increasing adoption of this emerging technology one of the fastest ways business can contribute to reduced emissions.
Australia may be playing catch-up when compared to other countries, but the global automotive industry makes it very clear that EVs and Hybrids are coming in greater numbers.
"We certainly need greater make/model availability, more investment in infrastructure, and more clarity on regulations and government policies for faster adoption in Australia," said LeasePlan ANZ MD Spiro Haralambopoulos.
"But even before we have answers to these questions, LeasePlan is being a responsible leader and taking essential steps to ensure our people and our customers are informed and ready."
The response from our customers was overwhelmingly positive, with many surprised at the technology and power in the Hyundai Ioniq and Kona EV models.
All agreed EVs are coming so now was the right time to Start Electric.