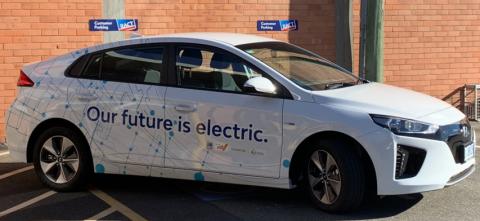 LeasePlan Australia is delighted to be able to welcome its first full electric vehicle, after RACT added a shiny new Hyundai Ioniq Elite to its fleet.
LeasePlan has made global commitments to reducing tailpipe emissions by advocating and enabling the adoption of EV vehicles in customer fleets.
While Australia may lag behind some parts of the world in EV availability and take up, this RACT initiative is an encouraging local step on this drive for change.
The new addition was delivered to RACT in Hobart in late March, and it was formally introduced with a launch in Launceston on 27 May.
The Ioniq will be put to work in Launceston as part of RACT's road safety education programs.
Listed by Toby Hagon as one of the top cars for fleet buyers to look out for in 2019, the new Ioniq has just landed on Australian shores. LeasePlan expects more and more EV options to be available to Australian buyers in the next year or two.
We congratulate RACT on their new addition and look forward to helping many more Australian businesses on this new electric journey. Find out how you can start electric.